Dan Hutchings Somerset
Dan Hutchings farms 130 acres at Stogumber near Taunton in Somerset. In the autumn of 2012, he bought 95 ewe lambs at the Welsh Mules' sales at Builth Wells. At scanning, just 6 were not in-lamb while 30% had twins with the rest singles. Dan returned to Builth in 2013 to buy a further 114 ewe lambs: these performed just as well if not better. 11 were not in-lamb while 50% were in-lamb with twins.
The policy is to buy ewe-lambs at the first association sale where experience has shown that it's possible to find an excellent selection of good sized ewe lambs. Ewe-lambs are shorn the week after they arrive, allowing them to settle.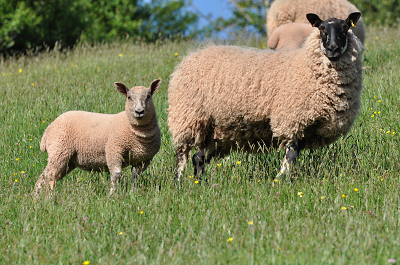 One of Dan's Welsh Mule ewes with Charollais cross lamb
Teasers are used to encourage the sheep to come into the breeding cycle before they are turned out to Charollais rams, preferred for ease of lambing. Ewe-lambs are wintered on grass keep, returning to stubble turnips then housed two to three weeks before lambing. In Dan's opinion, Welsh Mule ewe lambs manage to give birth easily, have tremendous mothering ability and good milk yield,
In 2013, hoggs and lambs were sold at local markets, but as prices were lower than anticipated, many of the couples were kept, selling the finished lambs at 11-12 weeks with the first pick coming out at 21 Kgs. In 2014, the ewe lambs are being kept at home and the lambs will be sold finished.
Dan's opinion of Welsh Mule ewes is that "They grow on very well with good confirmation, are good on their feet, have good length and depth of body: a very good type of sheep which suits my needs very well."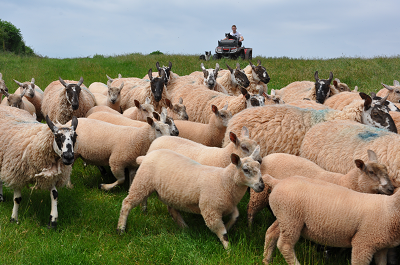 Dan Hutchings with some of his Welsh Mule ewes and Charollais cross lambs